In the Missouri River Canyon Between Craig and Cascade
6 Rooms with two Double Beds
The Missouri River country of Montana is a very special fishing world. One of the great tailwaters in the U.S., the upper Missouri resides in trout territory. Almost every other great North American tailwater is found in non-traditional trout areas.
The upper Missouri River system starts below Holter Dam, and remains an excellent trout fishery for 60+ miles. This large tailwater has a rich water chemistry, cool waters and an incredible aquatic life. The results is a fishery with a large population of strong, healthy rainbows and browns. The upper Missouri has on the average over 4000+ fish greater than 10 inches per mile. The upper Missouri can be divided loosely into three different sections.
THE UPPER RIVER
The area from Holter Dam to Spite Hill is the upper river. For the first 3 miles below Holter Dam some of the largest rainbows in the U.S. forage in vast weed beds. Wolf Creek Bridge to Spite Hill resembles a huge spring creek with small cobble and rubble bottom with complex chains of weed beds. This is classic dry fly water with smooth surfaces and wary trout.
THE MIDDLE RIVER
The middle river or Canyon runs from Spite Hill to Prewett Creek. With canyon walls and a restricted width, the pace of the Missouri picks up speed and bank depth in this section. Still with many spring creek sites, this section resembles a more freestone nature to itself. Steep rip rap banks off highway grades or railroad tracks makes this section premium water for nymphs, streamers or dries.
THE LOWER RIVER
The lower river from Prewett Creek to Cascade, broadens out in the Chestnut Valley and again resembles a huge spring creek. Numerous islands and interesting channels makes this section one of our favorites.
There are Walk and Wade sections of the Canyon that are within minutes of the Lodge and can be fished before or after a guided trip.  On lower water years the wading opportunities increase which makes for an easy option on foot.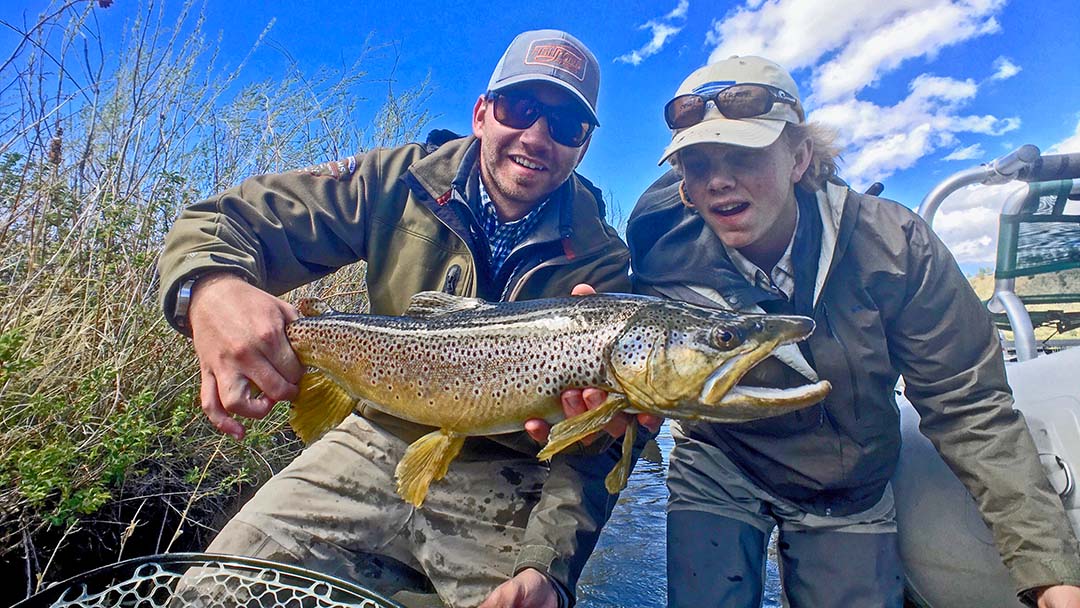 DEARBORN RIVER
The Dearborn River is a small river by Montana standards and is characterized by deep aqua-blue pools and riffles along spectacular canyon walls. The Dearborn enters the Missouri two miles above the lodge and is best fished with wade trips into remote wild areas.  During runoff and when the flows are high enough to float, the fishing tends to not be as good. A good population of rainbows with a few large browns come to medium sized nymphs and attractor flies.
THE SUN RIVER
The Sun River below Gibson Dam in the world famous Bob Marshall Wilderness flows through an area referred to as the "Montana Alps". Large deep pools and turbulent runs produce rainbows, a few brook trout and grayling and browns. This medium size river is best fished wading with a beadhead nymph and large attractor flies.
OTHER STREAMS AND SMALL WATERS
Small streams are an excellent choice in the Missouri River country of Montana offering solitude, spunky fish and non-technical fishing. We fish 3 very productive small streams and a great spring creek. A great change of pace from the big Montana waters.